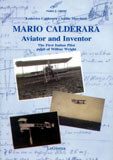 Lodovico Calderara - Attilio Marchetti

Mario Calderara, Aviator and Inventor
The First Italian Pilot pupil of Wilbur Wright

The biography of the first italian pilot, pupil of Wilbur Wright. The book is written by the son in collaboration with general Attilio Marchetti. Inventor and constructor of first hydro glider, Calderara was a brilliant pioneer between 1909 and 1913. He was in touch with the most famous pilots: Glenn Curtiss, Henry Rougier, Leblanc, Anzani and Mario Cobianchi, Henri Farman, Otto Lilienthal, Goupy, Farmann. He got an important success during Brescia Air Circuit in 1909 where he achieved the Premio Internazionale per Trasporto Passeggeri and the Premi Nazionali Oldofreni, Corriere della Sera, and Coppa del Re. A basic story of the first italian pilot.